Women's Health at Gathering Wellness Collaborative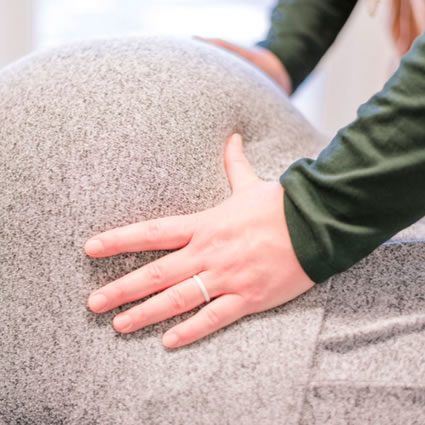 Dr. Kelly is Newnan's premier destination for women's spinal and nervous system health. With advanced training in prenatal and postpartum health, Dr. Kelly is a well-respected and trusted practitioner.
Fertility and Pregnancy
A woman's body undergoes many changes during conception and pregnancy. If you are struggling to get pregnant, chiropractic can help prepare one's nervous system. "In order to have the best chances of getting pregnant, you need to make sure that your nervous system is free of interference so hormones can be released properly," explains Dr. Kelly.
Once a woman becomes pregnant, chiropractic care is a safe and effective practice that supports both mother and baby. Research has shown that women who receive chiropractic care during pregnancy report less body aches, have shorter labors and less of a need to take medication for pain. Additionally, Dr. Kelly hopes that her chiropractic care empowers moms-to-be: "My pregnant practice members have reported a better sense of understanding what they're going through during pregnancy and have more empowerment over their bodies and the choices they are making. This is so important for women," she says.
The Webster Technique is a very safe and effective chiropractic technique designed exclusively for pregnancy. Because Dr. Kelly is trained in this, she is uniquely trained to treat pregnant practice members. It is very gentle and facilitates proper neuro-biomechanical function for both mom and baby. We offer special pregnancy pillows to make pregnant practice members very comfortable.
Some of the benefits of receiving prenatal chiropractic care from Gathering Wellness Collaborative include:
Reduce round ligament pain
Reduce back pain
Help make mom more comfortable
Support the baby's positioning for a healthy birth
When receiving chiropractic care during pregnancy, it's important to ensure that the provider is Webster trained, as pregnancy care is not the same as regular chiropractic care.
Postpartum
Dr. Kelly is very passionate about providing postpartum care. After a baby is born, the mother pours so much care into her new little love. The mother is also experiencing physical and hormonal changes as her body heals from birth while adjusting to her new role (and less sleep!). Dr. Kelly wants to help mothers have a chance to take care of themselves in this tender time. In fact, we believe that chiropractic care should be standard care for all women during postpartum!
"A mother's body has gone through so much. In order to make sure that you are healing properly, you need to make sure that your nervous system is functioning well," she says.
During postpartum visits, Dr. Kelly will help moms deal with any challenging pain and will help teach women how to heal their core and pelvic floor. There are many conditions that can get brushed under the rug during postpartum, such as urinary incontinence or diastasis recti (separation of abdominal muscles). "Just because these issues are common doesn't mean they are normal," says Dr. Kelly.
Dr. Kelly is also a Birth Fit leader and will be teaching classes in Newnan soon.
I've began seeing Dr. Kelly around 15 weeks pregnant with my 3rd child. I was already experiencing severe pelvic and tailbone pain, along with weekly migraines. She spends so much time with me each visit and customizes each adjustment based on my pain. She walks me through each adjustment and stretch with so much passion of getting me back to feeling myself. Now at 31 weeks pregnant, my tailbone and pelvic pressure is gone and migraines only happen on occasion mostly due to pregnancy hormones. I am feeling stronger than ever before in any of my pregnancies. I have never experienced such a compassionate and effective Chiropractor. I'm so thankful to not only have found and amazing chiropractor but I have also gained a new friend. Rates are so affordable and she is so patient and flexible with my schedule. I truly feel blessed she us in our lives. Lindsay G.
A Mother's Healing
The journey to motherhood is not always easy! And motherhood is joyful and beautiful, but also complex. Dr. Kelly has been there. She knows how tough postpartum can be. She knows how to support mothers in all stages. If you're a mother or a mother-to-be, chiropractic care can help you during the motherhood transition.
Call Gathering Wellness Collaborative today.
CONTACT US
---
Women's Health Newnan GA | (678) 552-9140