Meet Dr. Kelly Barnette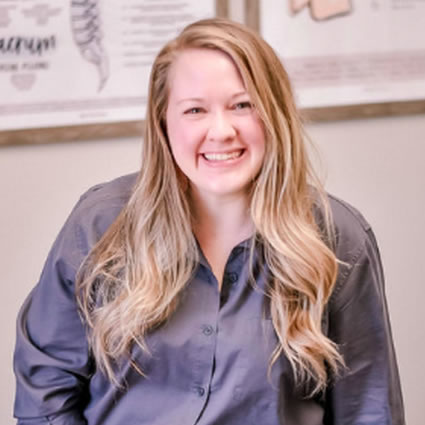 With a very down-to-earth, yet also passionate and inspiring presence, Dr. Kelly is the premier women's wellness spinal health expert in Newnan. She also sees men and children! As a Webster trained specialist, Dr. Kelly works with the entire family as she provides chiropractic care for pregnant women, men, infants and children in addition to her postpartum specialty.
A Mission to Serve
Dr. Kelly knew from a young age that she wanted to help others as a healthcare provider. For a long time she thought she would pursue a Medical Degree and was actually accepted into medical school the same day that she was accepted into Chiropractic school. After a lot of soul searching and having many inspiring conversations while receiving healing adjustments with a chiropractor, she realized her heart and gut were directing her to chiropractic school. She made the switch to chiropractic school after getting her white coat ordered for medical school and still believes it was the best decision she could have made!
"The more I learned about chiropractic care and the philosophy behind holistic healing, I decided chiropractic was the direction I wanted to go and the legacy I wanted to leave," she says. "With every day that passes in my practice, I'm more and more grateful I chose to become a Doctor of Chiropractic."
Discovering the Healing Potential of Chiropractic Care
While studying at Life University, Dr. Kelly's passion for drug-free holistic health grew exponentially.
My understanding changed so much when I understood that the body is capable of healing on its own. When we remove the toxins, whether it's physical, emotional or mental, our body can heal. I like the idea of not being on drugs and supporting the body by ensuring the nervous system is functioning properly.
Additional Certifications
Dr. Kelly is Webster Trained, which means she has additional training focused on the unique care for pregnant practice members. She is also a BIRTHFIT leader and has learned about postpartum recovery as well as prenatal care. These trainings and certifications allow Dr. Kelly to effectively and safely help her practice members connect and reconnect to their bodies during and after pregnancy. Because of the unique physical and emotional challenges present during conception, pregnancy, and postpartum, specialized care must be offered during these times and Dr. Kelly is ready to help!
Family Life
Dr. Kelly is very passionate about chiropractic care and she genuinely enjoys being in the office seeing patients! She recharges by going hiking and camping with her family. She and her daughter enjoy cooking and baking together… no matter how messy it gets- toddlers. Dr. Kelly is always looking to learn new things and enjoys feeling rejuvenated from seminars. She is hoping to learn how to play the piano soon too!
Restoring Nervous System Health
As a Doctor of Chiropractic, Dr. Kelly is able to align the spines of her practice members to remove interference from the nervous system, which is caused by vertebral subluxation, to encourage and support whole body wellness. Because chiropractic care heals the nervous system, neuro-biomechanical functionality can easily be restored in practice members of all ages.
Start feeling the benefits of a properly aligned spine and a healthy nervous system today!
---
Dr. Kelly Barnette | (678) 552-9140