Collagen at Gathering Wellness Collaborative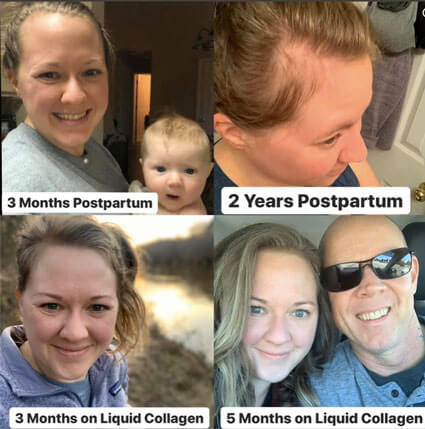 Dr. Kelly is a partner with a company that distributes collagen supplements. Modere Liquid Collagen is clinically backed by scientific research to increase the amount of collagen in your body.
After Dr. Kelly's daughter was born, she experienced a lot of hair loss for about two years postpartum. Hair loss is common for many women who have had kids due to falling estrogen levels, but it doesn't have to happen.
"After three months after taking the collagen, my hair completely filled out and my joints felt great," she explains. "My skin was glowing and I felt really good knowing that my insides were getting as much nourishment as my outsides."
Dr. Kelly really believes in the collagen product and thinks many of her practice members could benefit from taking it. Once we become 21 years old, we lose about 1% of our collagen every year. As we lose collagen, we start to develop wrinkles and our skin loses some of its natural vibrance and firmness.
Taking collagen can help us look younger, but the real importance is that it helps our blood vessels and joints. Collagen is the building block of our bodies. "The appearance part isn't as important as ensuring the well-being of our joints, vessels and organs," Dr. Kelly adds. Dr. Kelly has seen how collagen can improve joints in older practice members.
After two weeks of taking the collagen, an elderly practice member was amazed by how far she could walk because her joint pain was finally gone.
Benefits of Collagen
Modere offers incredible bio-availability of liquid collagen as users are absorbing 80-95% of the collagen directly into their body. Other health benefits of Modere liquid collagen include:
Improves joint mobility and lubrication
Reduces joint discomfort
Promotes healthy cartilage and connective tissue
Improves muscle tone
Reduces wrinkles from the inside out
Increases skin's collagen content
Improves skin's hydration, firmness and elasticity
Reduces hyaluronidase – an enzyme that can make your skin age
Promotes healthy hair, nails, gums and eyes
Supports cardiovascular health
Boosts vitality
Features of Modere Liquid Collagen
Contains award-winning, multi-patented Collagen/HA Matrix Technology®
Clinically proven
Provides 13 phytonutrient-rich superfoods + resveratrol
Great-tasting natural fruit flavor
Non-GMO, gluten-free, dairy-free
15 calories per serving, 3g carbs
Purchase Modere Liquid Collagen from Dr. Kelly.
CONTACT US

---
Collagen Newnan GA | (678) 552-9140